Regular price
$797.00
Sale price
$598.00
Unit price
per
Length: 10'6"
Width: 33"
Depth: 4.7"
Weight: 12.5kg 
Rider Weight: 100kg
Volume: 250L
MAX PSI: 25 


THE ALL-IN-ONE BEGINNER BOARD.
A recreational shape SUP aimed at beginner/intermediate paddlers offering huge stability and fun! Front and back bungee d-ring tie-downs for gear such as coolers, dry bags for some cold ones on the lake with the tribe. The Otago is a mountain of fun, whether you're new to SUP or looking to improve your technique with the kick-pad, you'll remember your first time.

Now includes 3 Piece Carbon Glass Paddle


View full details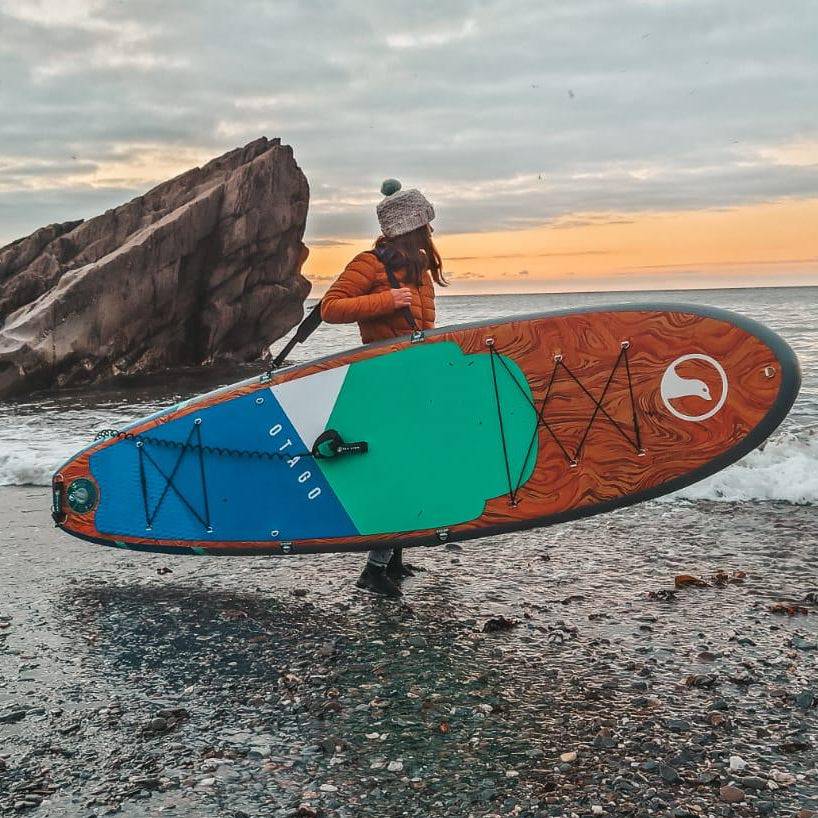 Are you ready for Awesomeness?
FULL DETAILS
(1) ADVENTURE GEAR TIE-DOWNS
Sea Lion provides a full deck stainless steel adventure bungee system so you never leave anything at home. We place multiple anchor points both bow and stern so you can disperse gear in the right places for those short and long paddles. Bring the tent, the cooler and your camera to that water access campsite you've always dreamed of getting to.
(2) YULEX GRAB HANDLES
Natural and renewable Yulex grab handles in place of petroleum neoprene. Front, middle and rear deck grab handles allow you to easily move, transport or store the board. The rear handle includes your leash attachment so you'll always be connected to your board while paddling.
(3) BLOOM ALGAE FOAM DECKPAD
Reducing the dependence on non-renewable petroleum foams. With the crocodile pattern, it provides extra comfort on your feet for those long paddling days.
 (4) REMOVABLE TOURING FIN
A tool-less screw fin with a balance of surface area and cant, offering superb tracking in various conditions
 (5) STAINLESS STEEL TOWING D-RING
Stainless steel towing D-ring allows you to easily tow and transport your board
 (6) BRING YOUR OWN SUP
Every Sea Lion Board comes with a B.Y.O. SUP shoulder strap. No distance is too far.

Stability: -

The 10 '6 Paddle Board is known for the stability it offers. This board is perfect for paddlers that struggle to keep their balance on board.  It is also the perfect board for beginners who have no prior experience with paddling.

Weight Capacity: -

The 10 '6 Paddle Board Weight Limit is up to 100 kgs of paddler-included weight. Moreover, it is equipped with several d- rings tied down for all of your necessary gear. Apart from that several anchor points are placed strategically on both the bow and stern side of your board for storage of equipment.

Lightweight:

- Inflatable Stand Up Paddle Boards are known for their lightweight nature. The 10 '6 Paddle Board weighs around 12.5kgs making it one of the lightest paddle boards in the market.
When not in use the 10'6 Paddle Board UK can be deflated and stored in compact spaces. It is also a very travel-friendly option as it is equipped with several grab handles which make transportation of this board very easy.
Sustainable: -

Inflatable boards are preferred by paddling enthusiasts because it's a sustainable alternative to traditional hardwood boards. The 10 6 Inflatable Paddle Board is equipped with renewable foam, and yuleX grab handles to cut down dependency on non-renewable items.
The 10 6 Paddle Board UK is equipped with a 3-piece paddle which helps you experiment with several forms of paddling.  Coupling that with its lightweight, durable and sustainable nature makes it one of the best inflatable sup boards in the market.
TEARDROP BLADE
The teardrop shape gives immense power due to its large tip surface area. This shape is for power and speed for catching waves or maximising speed from each stroke

CONSTRUCTION
• Plant-based bio resin-infused – that's right, plant-based glue!
• 100% long grain low-density FSC certified balsa wood core
• Unique Eye-catching Wood Veneer Wrap for added strength
• Extended reinforcement UD carbon neck for extra strength
• Full ABS protective rail all around the blade and next to protect both your paddle and board

CARBON GLASS SHAFT & CARBON HANDLE
• More economical than a full carbon shaft, but remains strong and lightweight for those paddlers looking for performance in a commutable and cheaper paddle

ERGONOMIC CARBON HANDLE
• Providing a comfy and powerful handle position

3 PIECES
• Connects via a secure spring pin but also comes with extra security clasps which reduces play, making for more efficient paddle strokes. No more rattling!

ADJUSTABLE HANDLE WITH MARKED MEASUREMENTS
• Never forget your perfect length paddle for that perfect paddling technique

GROOVE CLASP
• With the groove clasp, you will have a controlled paddle alignment with no twisting, making for a more efficient and powerful paddle stroke


SPEC
Teardrop Blade Area – 84.5in2/545cm2
Blade Angle - 10 Degrees
Length x Width – 7.5 x 17.75in/19 x 45cm
For more info on our Bloom technology click below 
For more info on our Yulex technology click below
3 PIECE CARBON GLASS PADDLE

The all-in-one paddle, 650g – A lightweight three piece teardrop paddle with a carbon glass shaft. Premium paddle handcrafted in Thailand. Offering performance and convenience in one paddle. Easily pack it in your board bag and you'll never be without your Sea Lion paddle again.

THE SUP BAG
Made with recycled PET water bottle ripstop fabric, the Sea Lion SUP bag is designed to carry everything you need; your three-piece paddle, board, pump, fin and quick fix kit. With superior YKK zips, a hidden strap system, heavy duty wide wheels, padded shoulder and waist straps for comfort and compression belts, the SUP bag is designed not only for the SUPer, but designed to last. Roll it through the airport, carry it on your back or easiliy transport it in your boot (trunk) of your car. Never leave your Sea Lion SUP at home again.
Every board comes with a Sea Lion eco leash. With a Yulex cuff and recycled PET water bottle webbing, always be connected to your board while paddling.

THE TRIPLE PUMP
Don't ever struggle again pumping up your board. With the triple action pump, you'll be up and paddling in under 4 minutes! 


FIN


REPAIR KIT

So much fun!
My first paddle board and after doing some research I know I got good value for money with Otago. The eco credentials are awesome, the design is great and all the accessories included seem high quality. I love how easily it all fits into the bag and how transportable it is. Best thing though, it's so fun on the water! Really stable and manoeuvrable and seems fast enough. Haven't tried it on choppy waters yet. I had a bit of an issue with the pump but Sea Lion were great and sorted it all out. Highly recommend.
LOVE
Love this board so much and can't wait to use it! Speedy delivery and really helpful staff.
Really quick delivery! I ordered this on a Monday morning and received it on Tuesday! The quality of the board and accessories are really good and I can't wait to enjoy 100s of adventures on it. The family are super jealous
I had lessons on all sorts of boards and took the plunge with the sea lion Otago. I did not regret it as the board quality and extra features/services sea lion offer is fantastic within the price point. I missed out on a discount but that is okay! I can't wait to paddle it every weekend 😁