Regular price
$897.00
Sale price
$673.00
Unit price
per
Length: 12'6"
Width: 32"
Depth: 6"
Weight: 13.5kg
Rider Weight: 170kg
Volume: 355L
MAX PSI: 25


The 4X4.
The ultimate 4X4 water vehicle for overnight and multi-day paddling adventures. With multiple bungee tie-down positions for anything and everything you can bring with you (up to 170kg including rider), including coolers, camping gear, oh and your suncream! The length and width provides incredible glide and stability in bigger water and ocean environments. The Tasman, the ultimate exploring 4x4 board.

1. What details do I need to provide to avail warranty?
We require your full name, email, address, board type and year, serial number of the board and proof of purchase to register your boards with us.
2. What services are available in the SUP MOT?
The service comprises deep cleaning, UV protective coating, valve service, pressure test, MOT pass certification and pick up and drop off of boards.
3. Will I be able to get my board fixed without a warranty?
We offer several repair services at an extra cost to get your board fixed and as good as new.
4. Do you accept payments via the Klarna payment service?
We accept several forms of payments including Klarna payment service. Your age should be at least 18 to avail of the pay via 3 interest-free instalment options.
5. How long does the UV coating on the boards last?
The UV coating protection lasts for 8 months after which you can choose to reapply to increase the longevity of your board.
View full details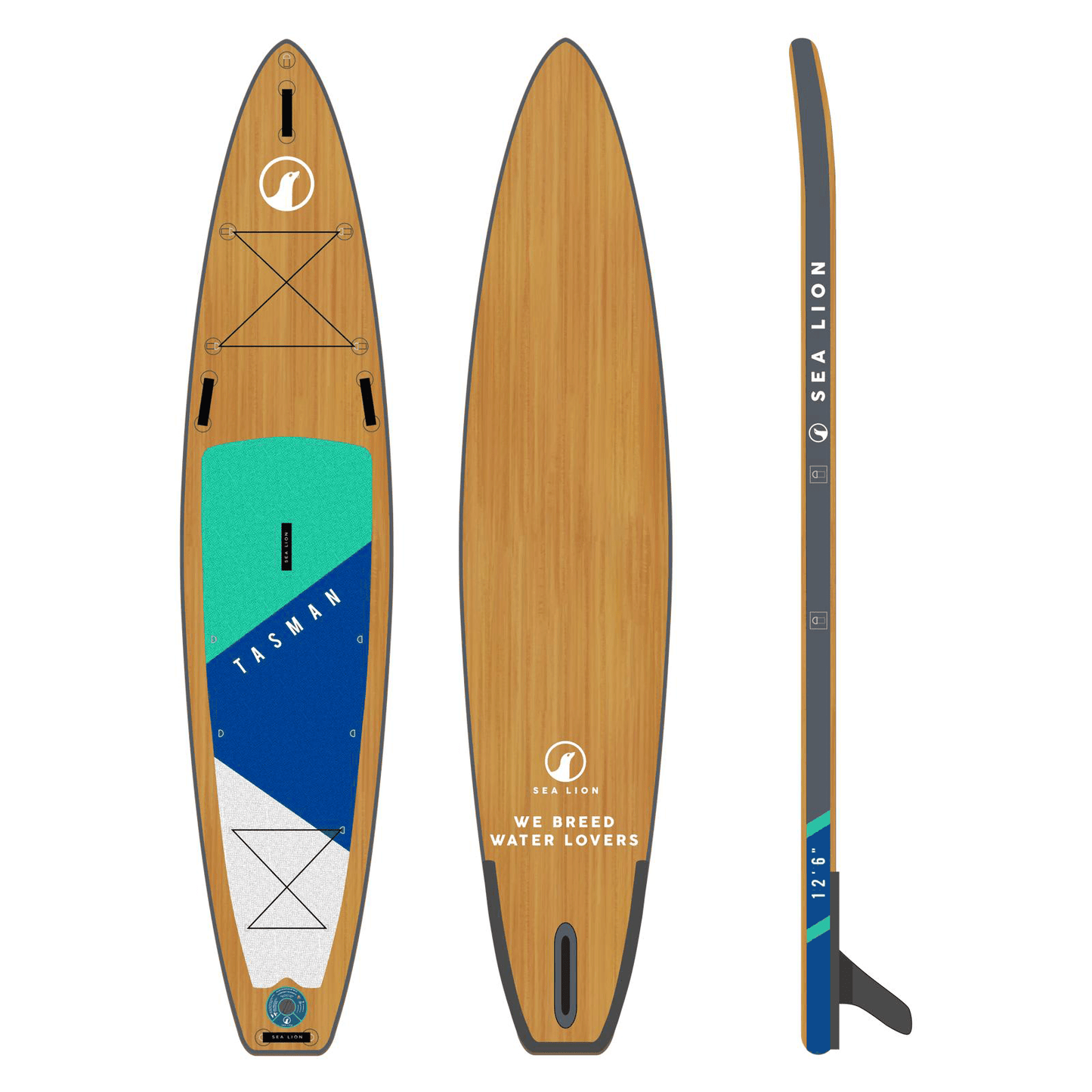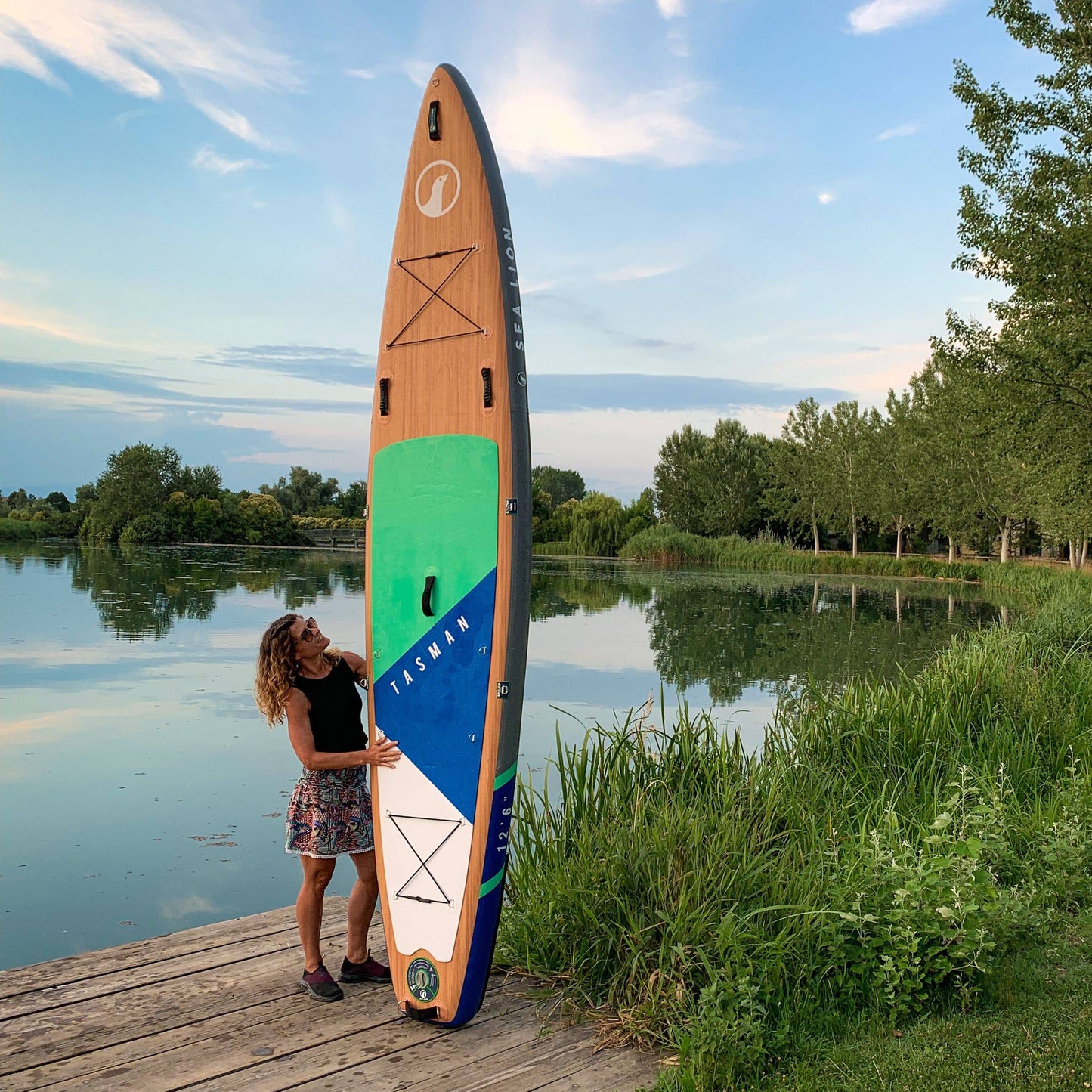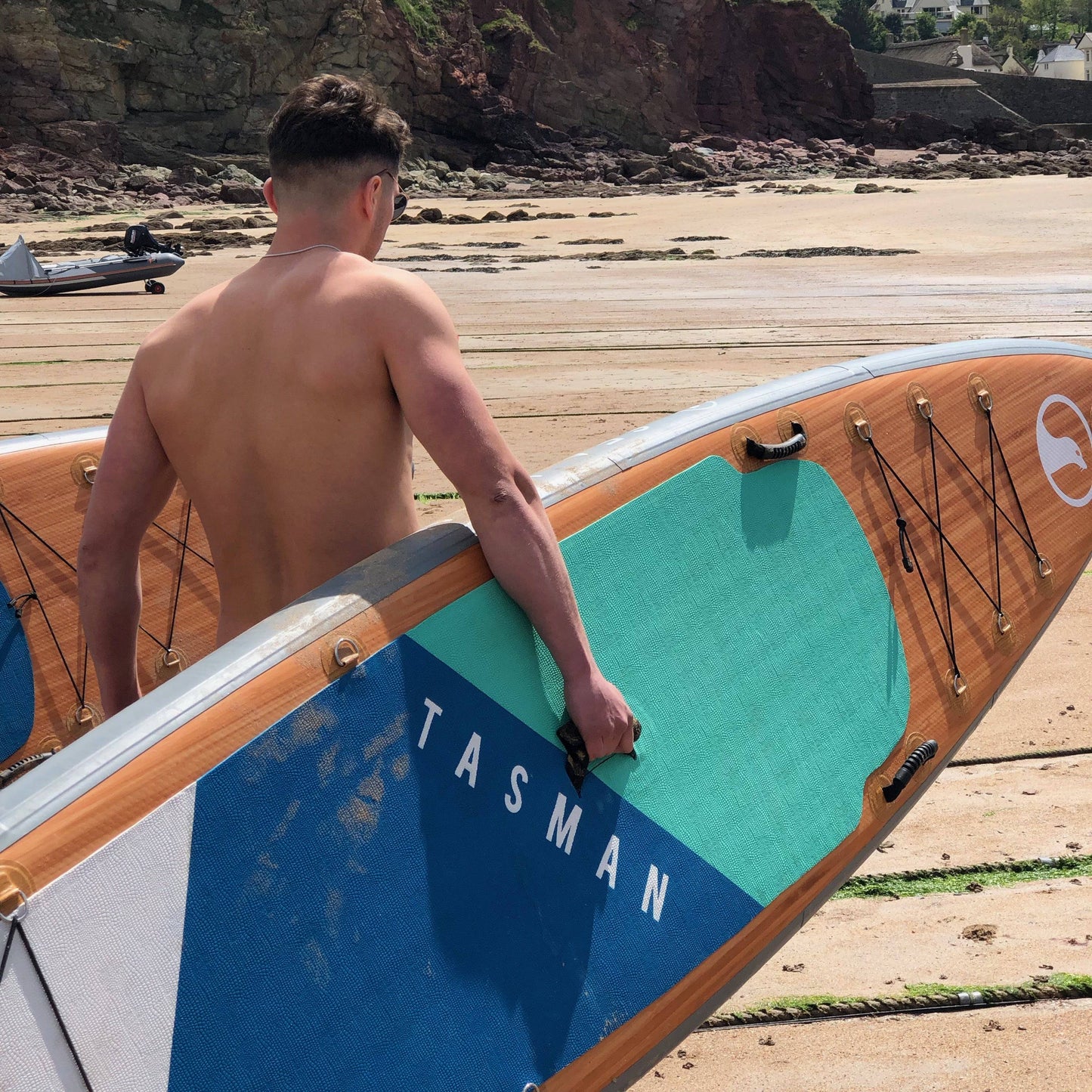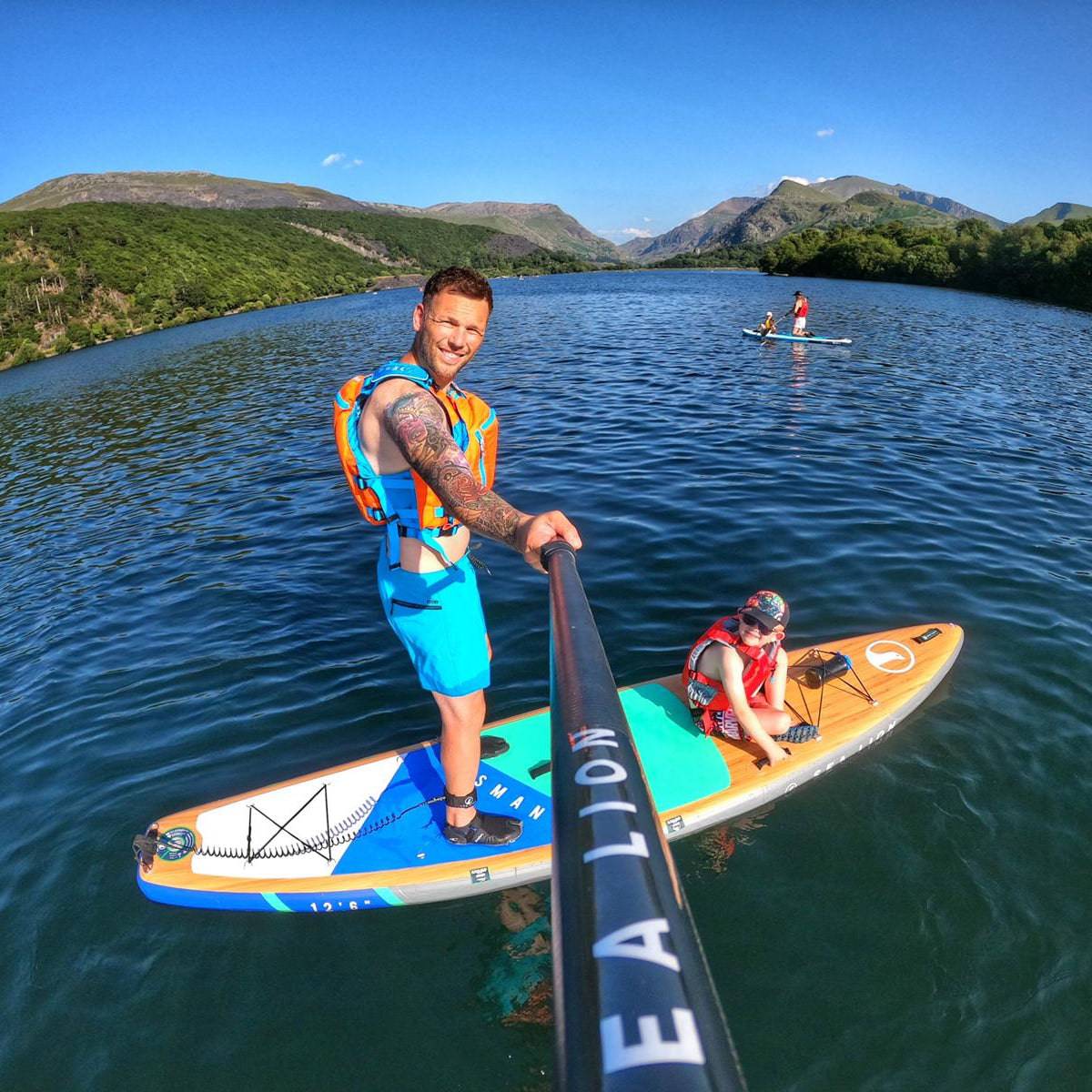 Are you ready for Awesomeness?
FULL DETAILS
(1) ADVENTURE GEAR TIE-DOWNS
Sea Lion provides a full deck stainless steel adventure bungee system so you never leave anything at home. We place multiple anchor points both bow and stern so you can disperse gear in the right places for those short and long paddles. Bring the tent, the cooler and your camera to that water access campsite you've always dreamed of getting to.
(2) YULEX GRAB HANDLES
Natural and renewable Yulex grab handles in place of petroleum neoprene. Front, middle and rear deck grab handles allowing you to easily move, transport or store the board. The rear handle includes your leash attachment so you'll always be connected to you board while paddling.
(3) BLOOM ALGAE FOAM DECKPAD
Reducing the dependence on non-renewable petroleum foams. With the crocodile pattern, it provides extra comfort on your feet for those long paddling days.
(4) SLIPSTREAM SYSTEM
The Sea Lion Slipstream system creates a acute edge forwater to smoothly release for maximum glide and speed.
(5) REMOVABLE TOURING FIN
A tool-less screw fin with a balance of surface area and cant, offering superb tracking in various conditions
(6) ADVENTURE HANDLES
Two bomber front side rubber handles allowing you to easily transport your board with gear attached.
(7) BRING YOUR OWN SUP
Every Sea Lion Board comes with a B.Y.O. SUP shoulder strap. No distance is too far.

Looking to increase your experience and distance when paddleboarding? You'll need a touring SUP to carry more gear and make the paddling more effortless, such as the Tasman 12ft6 paddle board
The 12ft6 Tasman features:
Touring – This is a touring paddleboard, nothing more. For day trips or multi-day adventures, the 12'6 Tasman is the 4x4 Stand-up paddleboard that can carry everything you need and get you there with ease.
Glide – Glide is key for a touring board, making it easier to paddle further distances due to less effort required by one paddle stroke, making the Tasman a gliding mastermind. Get from point A to point B with less effort, allowing you to increase your adventure distances. (make sure you are prepared by reading our safety journals)
Speed – Now who doesn't love a bit of speed? The Tasman paddleboard is quite the speedy board due to it's length and gliding ability. Race your mates or race yourself on your Sea Lion Tasman SUP.
Weight Capacity: - The 12'6-paddle board is lightweight but allows a weight capacity of 170 kg including the rider weight, making carrying all your essentials (and non-essentials like your favourite gin) a piece of cake (and can take a piece of cake). It is equipped with multiple anchor points around the bow and the stern so that you can store your luggage securely.
While choosing a good inflatable board it is of paramount importance to look through the product description to check whether the board is suitable for your activities. The 12'6 Tasman inflatable sup board can help you take the next step in your paddleboarding experience.
TEARDROP BLADE
The teardrop shape gives immense power due to its large tip surface area. This shape is for power and speed for catching waves or maximising speed from each stroke

CONSTRUCTION
• Plant-based bio resin-infused – that's right, plant-based glue!
• 100% long grain low-density FSC certified balsa wood core
• Unique Eye-catching Wood Veneer Wrap for added strength
• Extended reinforcement UD carbon neck for extra strength
• Full ABS protective rail all around the blade and next to protect both your paddle and board

CARBON GLASS SHAFT & CARBON HANDLE
• More economical than a full carbon shaft, but remains strong and lightweight for those paddlers looking for performance in a commutable and cheaper paddle

ERGONOMIC CARBON HANDLE
• Providing a comfy and powerful handle position

3 PIECES
• Connects via a secure spring pin but also comes with extra security clasps which reduces play, making for more efficient paddle strokes. No more rattling!

ADJUSTABLE HANDLE WITH MARKED MEASUREMENTS
• Never forget your perfect length paddle for that perfect paddling technique

GROOVE CLASP
• With the groove clasp, you will have a controlled paddle alignment with no twisting, making for a more efficient and powerful paddle stroke


SPEC
Teardrop Blade Area – 84.5in2/545cm2
Blade Angle - 10 Degrees
Length x Width – 7.5 x 17.75in/19 x 45cm
For more info on our Bloom technology click below
For more info on our Yulex technology click below
3 PIECE CARBON GLASS PADDLE

The all-in-one paddle, 650g – A lightweight three piece teardrop paddle with a carbon glass shaft. Premium paddle handcrafted in Thailand. Offering performance and convenience in one paddle. Easily pack it in your board bag and you'll never be without your Sea Lion paddle again.
THE SUP BAG
Made with recycled PET water bottle ripstop fabric, the Sea Lion SUP bag is designed to carry everything you need; your three-piece paddle, board, pump, fin and quick fix kit. With superior YKK zips, a hidden strap system, heavy duty wide wheels, padded shoulder and waist straps for comfort and compression belts, the SUP bag is designed not only for the SUPer, but designed to last. Roll it through the airport, carry it on your back or easiliy transport it in your boot (trunk) of your car. Never leave your Sea Lion SUP at home again.
Every board comes with a Sea Lion eco leash. With a Yulex cuff and recycled PET water bottle webbing, always be connected to your board while paddling.

THE TRIPLE PUMP
Don't ever struggle again pumping up your board. With the triple action pump, you'll be up and paddling in under 4 minutes!


FIN


REPAIR KIT

Love my board
I looked for ages at boards and came across sealion boards. I have not been doing sup for long actually had 3 goes and 4th with my board. I love every aspect of it and the paddle is so cool, much better than the rest on the market. The board tracks very straight and looks so good. I did have an issue when delivered but this was sorted immediately and fast. Keep up the good work!
Upgraded from Rapoka
After spending the last 21 months paddling my Rapoka, I'm taking on longer-distance paddles so needed a tourer. No other brand really crossed my mind in choosing my next board. The Tasman offers everything I need, stability, glide, and design. Selling my Rapoka was easy as it's a solid well made and great-looking board that has awesome reviews. I'm now taking on long paddles and the Tasman is a more than capable companion.
Fab board. A joy to ride, gliding effortlessly on the water. Amazing capacity to take loads of gear and to be secured easily due to the straps. Not only is it a fantastic board, it's so eco friendly due to the materials and it looks gorgeous
I brought the Tasman last year and I have to say I'm super happy with it. It's such a pretty board and I get so many comments when I take it out. I wanted to purchase from Sealion because I love the ethos of the company, every part of the board is from a sustainable background and the Algae deck pad still amazes me, well done sealion 🤙
One of the best purchases I've ever made! Love this board! The Tasman has come with me on loads of adventures and the handles and tie-down are perfect for packing gear on and touring. Love all the eco features, but it also performs really well and has a beautiful glide in the water! 💙